Shipping and Return Policy
---
General Shipping Information:
During normal operations most orders will be shipped within 24-48 hours or sooner but 2020 has not been a normal year for everyone. Currently, as of December 29th 2020, continuing thru the Holiday Rush and the Covid-19 Pandemic please expect your order to ship in 5-6 business days and possibly sooner. Of course overnight shipping and express methods paid for are prioritized. Over the past 9 Months with so many shops closed and more and more customers ordering online we have seen a massive increase in order volume. Our crew is working hard everyday to get your orders out as quickly as possible. We appreciate your patience during this time and we should be back to normal faster shipping after the first week of the new year. If there is an issue with a product that you ordered we will promptly contact you. We are doing our best to get all overs out as quickly as possible. 2020 has been an unprecedented year for everyone so we hope you understand. Have a Happy New Year and Be Safe this virus is real and we hope the best for all of you in 2021. Thanks for your continued business we sincerely appreciate it and love doing what we do!
When you check out you will have the option to choose your shipping method.
We ship either via UPS or USPS. You have either Standard or Expedited options to choose from for both services.
TRACKING INFORMATION will be emailed to you as soon as we pack and create a shipping label for your order. Monday - Friday your tracking number will typically start tracking after 7:00PM. If you receive tracking information after 2:00PM Monday - Thursday, your tracking number will start tracking the following day after 7:00PM. If you receive tracking information after 2:00PM on a Friday, your tracking number will start tracking after 7:00PM the following Monday. During high volume order times, we may ship on Saturday and Sunday. If you receive an email confirmation that your order has shipped with the tracking number on a Saturday or Sunday, your order will start tracking after 7:00PM the following Monday. On occasion, we do have a USPS pickup on Saturday at 2:00PM. If you receive tracking information for an USPS order on a Saturday prior to 2:00PM, your order will start tracking after 7:00PM that day. All times mentioned above are Pacific Standard Time.
Mainland USA Shipping Information:
For MAINLAND USA orders, SoCal Skateshop offers FREE SHIPPING on orders OVER $60.
All UPS 2-Day, 3-Day, or Overnight and USPS Express orders that are placed prior to 11AM Pacific Standard Time will be prioritized and shipped the same day. These expedited services are not shipped on weekends and holidays where shipping services are not available from USPS and UPS and when placed on a weekend or holiday will ship the next business day. Designated Transit Days for UPS in the map below begin the next business day after your order has shipped and excludes weekends and non shipping holidays. If you were to choose a 2-day shipping method and order on a Wednesday you would receive your order 2 business days which would be Friday as long as it is not a shipping holiday. If you were to place an order on a Thursday and select UPS 2-day you would receive your order on Monday with Friday and Monday being the 2 business days.
Please note UPS Next Day Air shipments shipped on a Friday will arrive the next Business Day Monday. There are cases where UPS may deliver on a Saturday but that is not guaranteed so if you have time constraints on your shipments plan ahead for UPS Next Day Air shipments. if you need it by Saturday order early on Thursday so it will for sure arrive on Friday of course unless there is a UPS Exception due to Mechanical Failures and so on that can occur during any type of shipment.
For all orders under the free shipping amount of $60, your shipping is calculated based upon the weight of your order, your location and whether or not it is a commercial or residential address. We discount the return rates to offer you a competitive rate.
FPO/APO mailing addresses are excluded from our free shipping promotion as we only offer UPS Ground as an option for this promotion. Any non mainland USA addresses are also excluded as well as all non mainland addresses must be shipped via USPS.
USPS FIRST CLASS is a great inexpensive option for small orders like stickers and light weight items under 15 ounces. We are happy to provide this service to our customers who want to place small orders that are not a priority to receive immediately. A USPS First Class shipment is basically a First Class Stamped letter and will arrive in the number of days it typically takes a letter to get to your location from Southern California.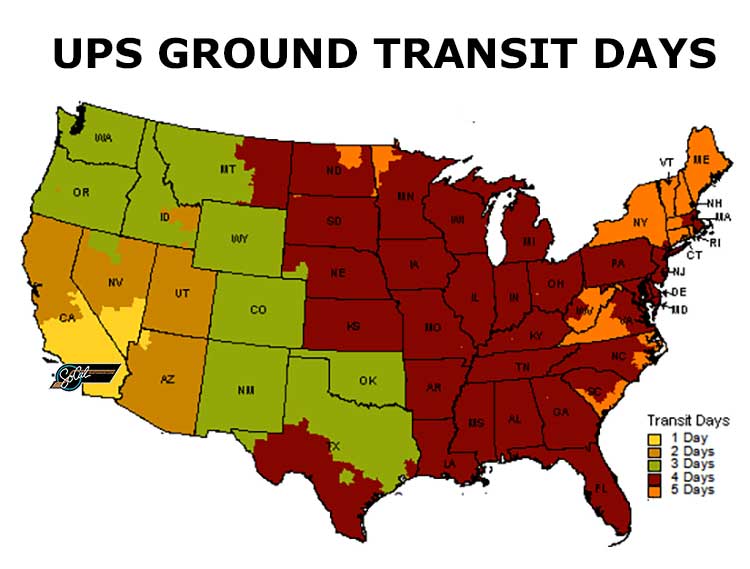 International Shipping Information:
For all international orders we ship via UPS Expedited International or USPS International Mail Services. We discount the return rates to offer you a competitive rate.
USPS International First Class: This method tracking is minimal and transit time varies from 10 to 30+ days. This is available for orders weighing under 4 Pounds only.
USPS International Priority Mail: Typically takes 6 to 10 Business days to customs and and then to you. This method has much better tracking and shipping times are reliable as you are paying for a prioritized shipping method.
USPS International Express Mail: Is typically delivered to you in 4 to 6 business days.
UPS International Expedited: Is the best method and in most countries is less than USPS and UPS Guarantees delivery in 3 to 5 business days. UPS processing is much faster than USPS so if this option works for you go for it you should be very happy!
Shipping Estimates:
If you want to get an estimate for an order to your location just add the products you would like to your cart, click on edit cart and click on the Estimate Link and enter your State, Zip Code and Country for the estimate.
Returns and Exchanges:
To return an item, call
949-600-7100
or email
support@socalskateshop.com
to get a return label and then send back the unused merchandise in new condition. Returns and exchanges are only accepted within 30 days from the invoice date. The following conditions apply:
All items must be unused and in like-new condition
Clothing must be unworn and unwashed
Items must not be damaged from smoke or pet odors
Complete decks cannot be returned due to assemblage
Videos and DVDs must be unopened
Shipping Your Return to Us:
After you receive a return label from us for your return, follow the steps below.
Securely pack all items being returned, in the original package if possible.
Enclose a copy of the original packing list and the return form with the return merchandise. Be sure to keep the original packing list for your records.
Ship the return package to:
SoCal Skateshop
Returns Department
24002 Via Fabricante Suite 406
Mission Viejo, CA 92691
Once we receive the return and have determined that it has not been used, your Credit Card or PayPal account will be refunded the full amount, minus the outbound shipping and handling charges (unless it's our fault that you're returning the merchandise). If the item is an exchange, you will be responsible for the inbound and outbound S/H costs for second shipment (unless it's our error). If you are returning a product that was a part of a free shipping promotion and the return brings the order total below the free shipping offer you will be credited for the product less the regular shipping charge for the rest of your order. If you are returning a product that was a part of a coupon offer where the return would then void the coupon offer, the coupon amount will be deducted from the product(s) returned.
For your protection, we suggest you return your merchandise via UPS or insured Parcel Post. All return shipping charges must be prepaid. We cannot accept C.O.D. deliveries.
Order Cancellation:
If you cancel an order that has already been paid for via paypal or credit card there will be a $4 order restocking/inventory maintenance fee. This fee covers the cost of restocking your order and for inventory control processing.
Shipping Address Corrections:
If you provide the wrong shipping address and the package is returned the customer will be responsible for payment of the re-shipment of their order.
If your order has already been shipped and is en-route and we are asked to do an address correction there will be a $15 address correction fee. We can only do an address change for en-route packages with UPS and are unable to do this with USPS since they do not offer an interception service. UPS charges us a nominal fee for any address correction.
Important Note About Deck Graphics And Colors:
Deck stains and graphic colors are not always as pictured. We do our best to provide accurate images and descriptions, but there are discrepancies at times. It is not guaranteed that you will receive the exact combination of colors pictured. If you want a specific color, please contact us before purchasing for current availability.